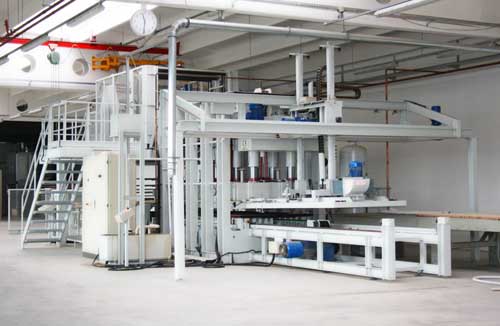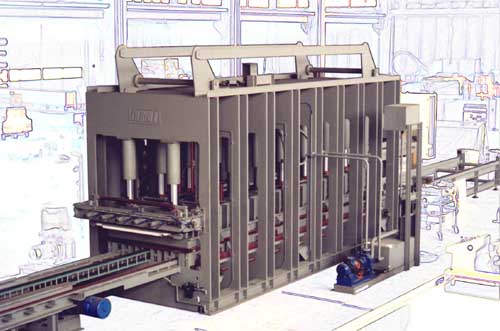 Tecnologia esclusiva nella produzione di pannelli rivestiti in materiale termoplastico senza membrana a ciclo continuo con carico e scarico automatici. (Tempo ciclo min sec. 60). Impianto altamente automatizzato, di grande produttività, offerto nelle varianti lunghezza m 6 o m 3. Magazzino fogli standard bobine n. 6.
Rivestimento di pannelli sagomati con tranciato in legno, pvc o foglie termoformabili in genere.
Racchiude in unica soluzione, quanto di meglio realizzato nel settore specifico delle presse a membrana.
Meglio nella qualità costruttiva eseguita senza compromessi.
Meglio nella tecnologia del processo produttivo dovuto alla profonda esperienza maturata in oltre sessanta anni di sperimentazione specifica.

Configurabile con caricamento con doppio vassoio o manuale; con magazzino porta bobine rotante e dispositivo di taglio automatico.
Exclusive technology in the production of panels coated with thermoplastic material without continuous cycle membrane with automatic loading and unloading. (Min. cycle time sec. 60). Highly automated plant, highly productive, available in the options length m 6 or m 3. Magazine standard sheets coils no. 6.
Coating of shaped panels with veneer wood, pvc or thermoformable layers as well.
It performs an unique solution, the best made in the specific area of the membrane presses.
The best quality in construction performed without compromise.
The best technology in production process due to the extensive experience gained in over 60 years of specific know how.

Configurable with loading type either double tray or manual; with rotating stock coil reel and automatic cutter.