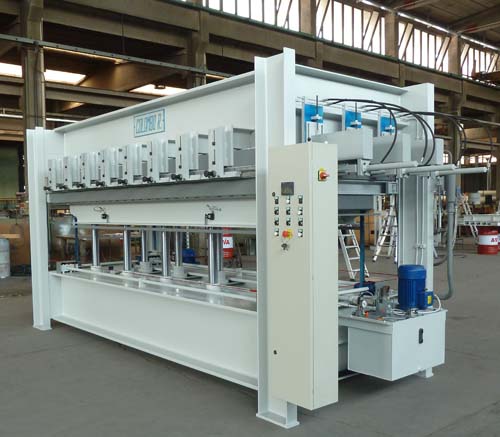 NUOVA SERIE DI PRESSE MODELLO HPC
Da sempre sinonimo di qualità e di eccezionale robustezza.
Oggi ottimizzata in ogni dettaglio mediante i più avanzati sistemi di progettazione 3D.
Grande cura nella scelta dei componenti. 
Controllo con PLC touchscreen: pressione, termoregolazione, timer presstura, ricette parametri lavoro e funzioni speciali.
Quattro cremagliere ampliamente dimensionate, granzia di precisione nei movimenti, riallinemento automatico.
Boiler a basso consumo, grande precisione nella temperatura delle piastre.
Centrale oleodinamica ottimizzata come ingombro, contenuto olio; accessibilità migliorata.
Quadro elettrico di nuova concezione posto in posizione di facile accesso e dall'ingombro ridotto.
Console posta direttamente sul montante a ingombro ridotto o in appoggio a terra liberamente dislocabile in funzione della tipologia delle lavorazioni per la miglior comodità dell'operatore.
Sistemi di sicurezza di livello massimo.
Ridotti consumi energetici.
NEWS SERIES OF PRESSES, MODEL HPC
They have always stood for their quality and exceptional strength.
Thanks to the most up-to-date 3D project systems, each detail has been carefully optimized.
Great care in the selection of components.
Touchscreen PLC control: pressure, thermoregulation, pressing timer, recipes of working parameters, special functions.
Four large racks, high accuracy and precision of the movements, automatic realignment.
Low energy boiler, great precision of the plates temperature.
Dimensions of the hydraulic unit and oil capacity improved; better accessibility.
Newly designed electric panel in a smaller size, placed in an accessible position.
Console placed directly on the smaller upright or resting freely on the ground according to the type of working process and for the best operator comfort.
Top level safety systems.
Reduced energy consumption.