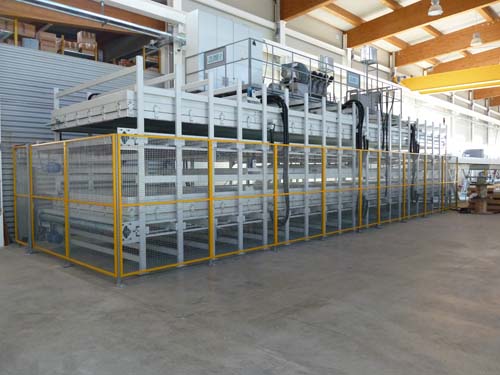 Innovativo sistema adatto alla produzione di pannelli per caravan, camion frigoriferi, case prefabbricate ecc. a livello industriale.
Tecnologia originale nell'utilizzo della membrana con vuoto.
Impianto di pressatura a due unità sovrapposte, nastri per trasporto, riscaldamento differenziato dei piani superiori / inferiori.
I componenti tecnologici dell'impianto sono stati alloggiati su una piattaforma smontabile posizionata sopra le presse: si ottiene una ottima economia di spazio e praticità di utilizzo.
Suitable for the production of panels for caravans, trucks, fridges, etc. at industrial level.
Original technology by using vacuum membrane.
Pressing plant with two overlapping units, conveyor belts, varying heating of upper / lower levels.
The technology components of the plant are located on a dismantled platform on presses – providing space-saving and quick use.