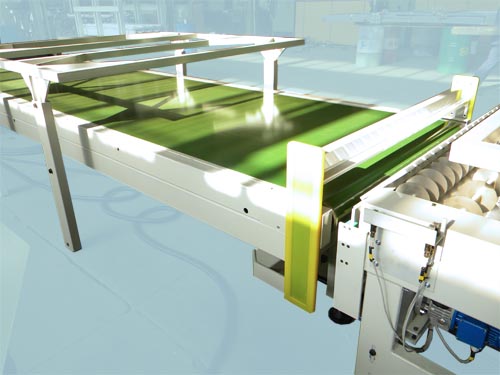 VIA A DISCHI CON BANCALE COMPOSITORE
La via a dischi è autopulente, pertanto viene eliminata l'onerosa necessità di procedere a lavaggi quotidiani: manutenzione e pulizia possono essere effettuate una volta ogni mesi sei.
Il bancale compositore consente la formazione del manufatto in modo automatico e soprattutto senza che l'operatore debba toccare lo strato incollato. La distribuzione dei pannelli per la pressatura avviene automaticamente.
DISCKS CONVEYOR AND COMPOSITION
Self-cleaning plates system: thus, daily washings are no longer needed. Maintenance and cleaning can occur every six months. Composition bench allows automatic product composition without the operator touching the glued layer. Panels distribution for pressing occurs automatically.